| | |
| --- | --- |
| | |
|  Lexus LX | Toyota Land Cruiser |
Comparing Top Luxury SUVs: 2021 Lexus LX vs. 2021 Toyota Land Cruiser
Have you been searching for the right luxury SUV to purchase or lease? If so, you'll want to consider choosing the 2021 Lexus LX at Hendrick Lexus Northlake. This new Lexus SUV will undoubtedly improve your time on the road thanks to its versatile performance and incredibly upscale interior. Plus, it comes loaded with advanced tech to add convenience and safety to your commutes.
While this Lexus model is highly appealing for many good reasons, we understand the benefits of comparing options before making your final selection. That's why our team at Hendrick Lexus Northlake has composed this comparison between the 2021 Lexus LX and one of its top competitors, the 2021 Toyota Land Cruiser. We hope this breakdown of differences helps highlight why this Lexus SUV is the right choice as your next automotive investment.
2021 Lexus LX vs. 2021 Toyota Land Cruiser
Performance
Both SUVs have one powertrain option, a potent V8 engine. While the new Toyota Land Cruiser's engine produces an impressive amount of horsepower, it's not quite as much as the Lexus LX. The Lexus model's V8 engine generates 383 horsepower, plenty to get this SUV up to speed with ease.
As you cruise around town or on the highway, the new Lexus LX does an excellent job of keeping the ride smooth, even when you encounter potholes or bumps on the road. The new Toyota Land Cruiser struggles to keep the ride smooth, especially at lower speeds.
When you feel like off-roading, both vehicles can handle their own. However, the new Lexus LX comes standard with a multi-terrain view monitor, allowing you to see what's underneath your vehicle while you're traversing jagged, uneven terrain. This helpful off-roading feature isn't available for the new Toyota Land Cruiser.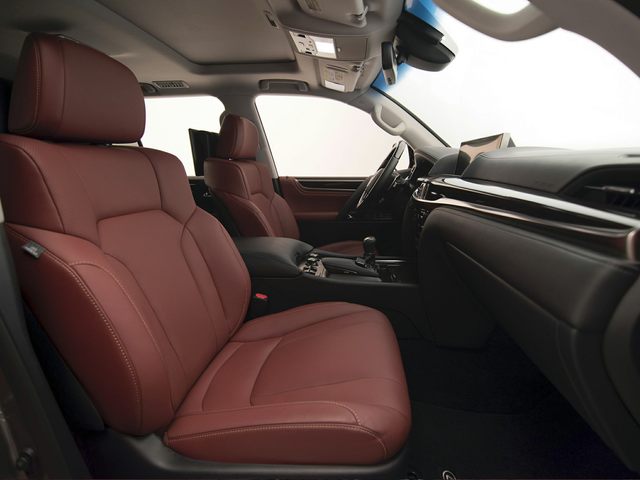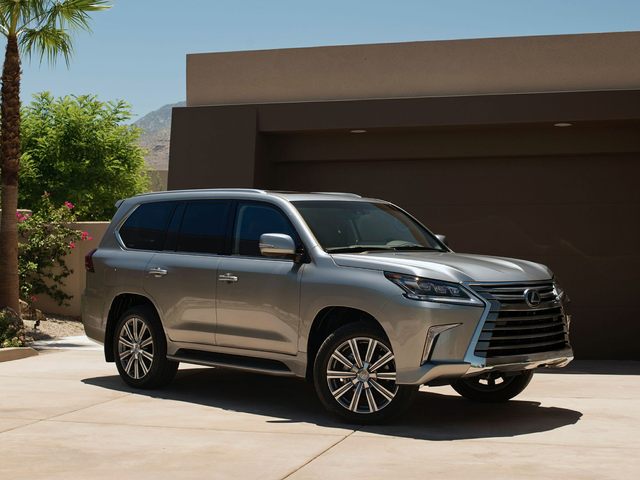 Interior Design and Features
The 2021 Lexus LX comes standard in a two-row configuration, and the 2021 Toyota Land Cruiser comes standard in a three-row configuration. For these base models, you'll find more passenger space in the second row of the Lexus SUV than the second row of the Toyota SUV.
In its standard configuration, the new Lexus LX boasts an impressive 53.7 cubic feet of cargo area behind the rear seats, giving you plenty of space to haul luggage, outdoor gear, or shopping bags. The standard configuration for the new Toyota Land Cruiser provides just 16.1 cubic feet of storage area behind its rear seats.
The new Lexus LX also comes equipped with ambient interior lighting, adding a touch of style to the already-luxurious interior. The new Toyota Land Cruiser also boasts an elegant interior, but it does not offer the ambient interior lighting feature.
Technology
Inside the new Lexus LX, you'll find tons of intuitive tech features. For instance, mounted on the dash is a 12.3-inch infotainment display paired with Amazon Alexa. The new Toyota Land Cruiser comes with a smaller, 9-inch display and does not offer Amazon Alexa connectivity.
When the precipitation starts to fall, you'll be thankful your driving the new Lexus LX as it comes standard with rain-sensing windshield wipers, helping ensure you can continually see the road ahead of you. The new Toyota Land Cruiser does not offer this feature.
Another tech feature that will help keep you safe while driving your new Lexus LX is the available head-up display, which projects important vehicle information on the windshield. This useful safety feature is not available on the new Toyota Land Cruiser.
To learn more about how the 2021 Lexus LX outshines the competition, visit Hendrick Lexus Northlake to talk with one of our knowledgeable team members today.